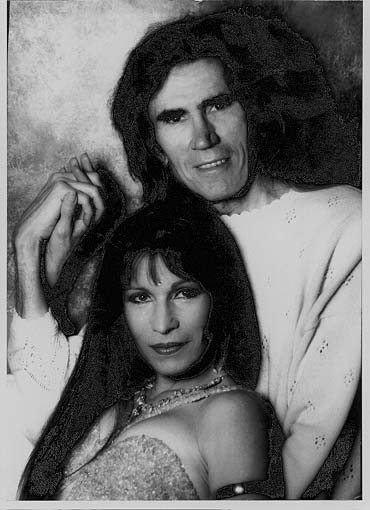 YOUKTA & VIKTORAS
Dear Friends on the path of health and spiritual evolution:
After 35 years in the living food movement, we've reached a point where we've entered a new dimension of health possibilities -- the actual reversal of biological aging. We call it Youthing (TM), the combination of nutrition, Herbology, meditation, emotional detoxification and mental empowerment. I personally invite you to join us at our newly opened residential center.
Love All ways, Viktoras and Youkta

LIFE HEALING CULINARY SCHOOL
DIVINE LIFESTYLE CONSULTANT PROGRAM

Viktoras' and Youkta's Arkansas-based residential nature retreat is now accepting a limited number students, for advanced training on all aspects of the living foods lifestyle.
Bring both your health, and your health knowledge, up to the next level. Live with, and learn from, a world-recognized living foods master.
Whether it's more fully integrating the nuances of the living foods lifestyle, counseling others professionally, or preparing gourmet living foods, Viktoras, along with his life-partner Youkta - will nourish your highest aspirations for all-round growth.

WHERE ARE WE? In Arkansas,
the Natural State

The 90 acres, that we are care givers to, is surrounded by a National Forest - just 50 miles from Hot Springs. There are pristine waters for swimming on our property and a leisurely walk through the forest trails to a magical swim area on the Ouachita River head waters. The Ouachita River is considered one of the cleanest water systems in America. Pure air, sounds of nature, wilderness. Enter the silence, and be in harmony with the Divine.

On this raw land we've begun building our own paradise. It certainly would have been easier to start with a civilized area. We are learning as we go along. Now, after 6 years, we are ready to open our retreat center to all others who are seeking to experience the benefits and delights of live food, and/or a self-healing system. A wide range of physical fitness programs and spiritual communion through personal practices is available.

WHY WE ARE WHERE WE ARE

MT. Ida -- Few miles from where we live
http://www.williamhenry.net/mtida1.htm ANCIENT GOD-BEINGS COME TO MOUNT IDA ARKANSAS AND CREATE A SECRET HALL OF RECORDS.
www.mtidachamber.net -- list of motels in my area - around $30 per night
WHY PEOPLE LOVE HOT SPRINGS
http://www.hotsprings.org/
http://nationalspark.com/hotsprings/
http://www.hsnp.com/nps/
http://www.epinions.com/park-Parks-All-AR-Hot_Springs_National_Park
ATTRACTIONS
http://www.hsnp.com/d_hsattr.html
CONVENTIONS
http://www.hotsprings.org/conventions/center/
ARTS
http://goarkansas.com/oamix1.html


Living in harmony with nature is our primary goal. Our facilities have been built with love but certainly aren't fancy. We currently have in operation:
* A 3000 sq. ft. dining hall open on 3 sides, which has a 600 sq. ft. platform, for yoga and dance, with plenty of space for classroom and dining. Attached is a 600 sq. ft. live food kitchen.
* Bathing facilities - 16 hot/cold showers;
* 10 bathrooms with flush toilets; plus a few outhouses
* A 4000 sq. ft. performing/practice stage with shade cloth
* 2 dorm units for 7 folks per unit.
* A 8 by 12 ft. double occupancy isolated cottage
* Three 4 by 8 ft. single individual huts.
* 8 Tipis (22 ft.) available for those that wish to set them up
* A 1000 sq. ft. home rebuilt as our residency
* 2 cement creek cross-over dams and swim area.


2002 Retreat


All Life Sanctuary Resort / Camp ( For a Youthing vacation/retreat ) is re-opened with Viktoras and or Youkta. You may stay at the center for R & R with Live Food or join us in the special scheduled programs:

Weekend retreat of 3 days
(Nov 29 - Dec 1, 2002, $300) -"FUNdementals of Enzymatic Nutrition -- Growing, Preparing, Enjoying and Healing"
As well as a ten day retreat Advanced Immersion in 3 FUNdementals of Enzymatic Nutrition -- Growing, Preparing, Enjoying and Healing 2- Learn by Doing (Nov 15 to 24, $800) . We are restricting to 20 people. First come first served. Must send in 50% deposit to Ihopea. For more details, ask youthing@alltel.net.


Call with questions and or reservations. Spaces are limited so please contact us about arrangements.

Viktoras
870-867-4521
PO Box 1556, Mt. Ida, AR 71957

WHO ARE WE? Naturally Divine, just like you
Youkta under tutelage of many world renown teachers, has studied, practiced, performed and taught -- for more than 25 years -- dance, yoga, fitness as well as 20 years dedicated to the living foods lifestyles. Youkta will be releasing a book in 2002..
Youkta: A grandmother, in her 50's remains dynamically & passionately inspired in Dance and Yoga Kinetics utilizing movement as an evolutionary tool; inspiring personal growth, joy and celebration of sharing. She is the founder and director of the "International Womyn's Festival of Healing Arts". She also operates a dance and yoga studio in the Hot Springs area and partners with Viktoras Kulvinskas , in the All Life Sanctuary, holistic lifestyle resort-camp-school. She is available for private classes, workshops and lifestyle consultations.
Viktoras: Born before WW II in Lithuania, lived in a displaced people camp in Germany, a graduate with MS in Mathematics, taught college and was computer consultant for decade with Smithsonian Astrophysical Observatory; Apollo Project, Harvard, MIT, etc. His personal health was failing and was becoming more disabled, he researched alternatives and became involved with the healers Walker, Warmbrand, Christopher, Jensen, Wigmore, Szekely, Howell, and Murray. He is co-founder with Ann Wigmore of the Hippocrates Health Institute, where he continues to give workshops in West Palm Beach. He wrote a best seller "Survival Into 21st Century", (with a Peter Max Cover). Author and Practitioner in the Wholistic field for 35 years. Was Nutritional and Educational director for 2 years of Dick Gregory's Obesity and Substance Abuse resort.
*Senior executive with Cell Tech Inc. provider of Super Blue Green Algae - raw, wild, complete food -choice of many top athletes. Viktoras is a natural healer, Essene minister, World wide lecturer and Live-Food-Chef. He is a whole food innovator and product designer.

Unknown Gem Type: tlx.tlxinv.guestbook